October 17, 2020, 11:00 am – 12:00 pm
Member Saturday: Writing on the Margins | Poe, Dickens, and Incarceration in Philadelphia
Members only. Registration required.
Charles Dickens and Edgar Allan Poe met for the first time in Philadelphia in 1842. Their writings revealed a shared fascination with the grim and the macabre but also an interest in exploring deeper topics like poverty, crime, and the margins of society.
Join us as we examine the overlap between the works of Poe, Dickens, and incarceration in 19th century Philadelphia. Helen McKenna will set the scene with an interactive recitation of select writings by Poe. Eastern State staff will provide historical context and lead a discussion about the prolific authors' perspectives on incarceration.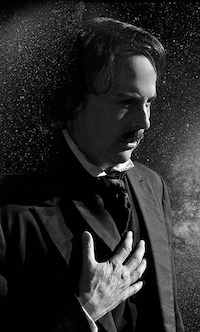 About Helen:
Helen McKenna was first "Poe-ssessed" by Poe when she performed "The Raven" for a high school acting class. For years, McKenna was a park ranger at the Edgar Allan Poe National Historic Site where she could immerse herself in Poe's history. With an undergraduate degree in theater and a masters in literature, McKenna began performing her one woman show "Tell-Tale Poe" as Poe and another show, "Remembering Poe", as his poetess fiancée S. Helen Whitman. Since then, McKenna has performed as Poe around the country.
Please note: Due to COVID-19 restrictions, Member Saturday events will be held online until further notice. Register now and keep an eye on your email for updates. A Zoom invitation will be emailed 24 hours in advance.
This event is free for all members. Reserve free tickets online or call 215-236-5111 x224. Space is limited.
Join us at 11:00 am on the third Saturday of every month for this special members-only program. Not a Member? Join today! Questions? Email us at [email protected]