May 26, 2022, 6:30 pm – 7:30 pm
The Searchlight Series: Coss Marte & CONBODY Fitness
Free. In-Person. Or join online via Facebook or Zoom webinar.
Join founder Coss Marte for a discussion about the origins and ongoing work of CONBODY, the "first fitness method born in prison, founded by an inmate, and managed and run by former inmates." Then, experience the CONBODY method yourself during a 30- to 40-minute exercise class led by Coss himself.
Inspired by his own desire to get fit, Coss Marte developed the CONBODY method while in solitary confinement then used the method to help other incarcerated people lose over 1000 pounds. Now, CONBODY is "the toughest most effective fitness program on the outside." In addition to employing formerly incarcerated professionals, CONBODY provides wraparound reentry services and aims to destigmatize the formerly incarcerated community.
THIS EVENT IS RAIN (indoors) OR SHINE (outdoors). Doors open at 6:00 pm. Discussion begins at 6:30 pm. Exercise class begins at approximately 6:50 pm or 7:00 pm. Then, feel free to enjoy Night Tours: Summer Twilight until the site closes at 10:00 pm. ASL interpretation provided both in-person and online. Captions provided online.

If you plan to exercise, please wear appropriate clothing and footwear, and bring a mat if you have one (not required). People participating in person may be photographed, video recorded, or shown on our livestream.
This event is part of Eastern State's Searchlight Series of events addressing issues in contemporary corrections. The Searchlight Series discussions are free and open to the public. No reservations required.
---
About Coss Marte: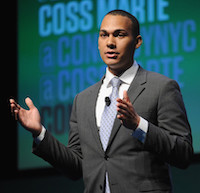 In 2009, Coss Marte was sent to jail as the ringleader of a multi-million-dollar drug operation. He was also grossly overweight and warned by his physician that his current lifestyle, if left unchecked, would likely kill him. Faced with this grim prognosis, Coss started to get in shape using the tools he had – his prison cell and his own body weight. Within six months he lost 70 pounds and replicated his successful formula of body weight exercises with 20 other inmates.
Then he launched CONBODY, a prison-style bootcamp that has gained over 70,000+ clients and has hired 50+ formerly incarcerated individuals to teach fitness classes. Since the launch of his company, he's been featured in over 200 major media outlets such as NBC, CNN, The New York Times, Men's Health and has been a three-time TED Talk Speaker. He's also won major pitch competitions such as Pitch for Good by TOM's shoes and the YPO shark tank competition, which combined raised $1,000,000. Coss also co-founded a non-profit organization called Second Chance Studios, which trains and helps employ formerly incarcerated individuals to become experts in audio engineering, video production, and podcasting.