Eastern State members receive invitations to exclusive, members-only experiences. Curious about what these experiences look like? Here's a selection of past events.
To view upcoming member events, click here.

Member Night: Even Before the White House | Toilets at Eastern State
(In-Person, July 2022)
Join Tour Programs Supervisor Matt Murphy for an in-depth look at the history of indoor plumbing and flush toilets at Eastern State. Consider the realities of living with a toilet in a confined space and discuss how modern prisons cope with plumbing issues today.
Member Saturday: Behind the Clippers | Barbering in Prison
(In-Person, July 2022)
Join Jerome Loach, Eastern State's Supervisor of Education and Partnerships, for an in-depth look at the fascinating history of barbering at Eastern State and a discussion on how this storied trade continues to inspire people to strive for a meaningful life, both inside and outside prisons and jails. Following this Member Saturday discussion, Jerome will lead a barbering demonstration.
Member Night: Security, Surveillance, and Supervision
(In-Person, June 2022)
Membership Specialist Connor Feeney will lead a tour of Eastern State's iconic radial plan design, share some of the security triumphs and failures of the penitentiary throughout history, and discuss how evolving technology eventually made the facility obsolete.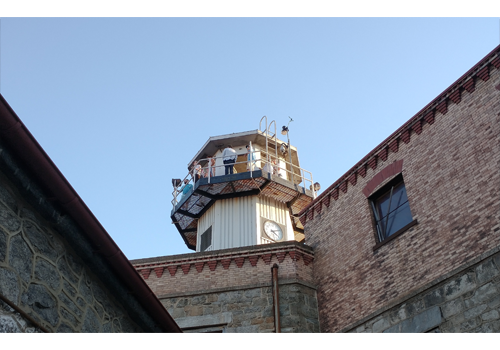 Member Saturday: Fighting for Freedom | Exoneration in Pennsylvania
(Virtual, June 2022)
How can someone be convicted of a crime they did not commit? What resources are available to those who are wrongfully convicted? And what happens once someone has been exonerated? Join Phillips Black legal apprentice Marco Maldonado for a conversation about exoneration in Pennsylvania and the process of overturning a wrongful conviction.
Member Saturday: Meet the 2022 Artist
(In-Person, May 2022)
Come to the penitentiary to explore the new installation for the 2022 season: DLP Mirror by Mark Menjivar. Then, meet artist Mark Menjivar and Eastern State's Sean Kelley via an on-site video conference for a live Q&A.
Member Saturday: Hands-on Masonry Workshop
(In-Person, April 2022)
Learn more about historic masonry and the long-term strategy for maintaining Eastern State as a stabilized ruin. Then, stay and get your hands dirty! Members will be invited to help replace mortar between the stones of one of Eastern State's historic walls.
Members Photography Morning
(In-Person, April 2022)
Members enjoy exclusive access to photograph the penitentiary in the early morning light before the site opens to visitors at 10:00 am.Plus, the Hospital Block, normally accessible only through our Hands-On History program, will be open to members all morning!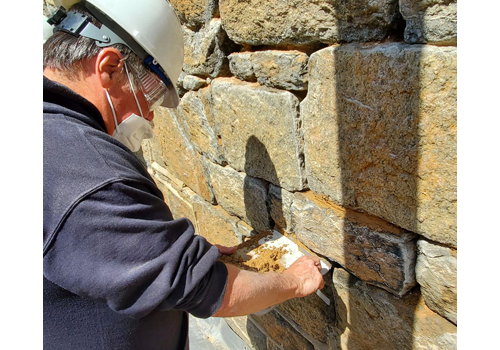 Member Saturday: Reimagining Public Safety
(Virtual, March 2022)
Eastern State Board Member and Temple University assistant professor Dr. Ajima Olaghere will lead an insightful discussion on how we can rethink our approach to social justice and public safety using Eastern State as a case study for activating the imagination.
Member Night: Exploring "The Rock" | A Virtual Tour of Alcatraz
(Virtual, March 2022)
Join National Park Ranger Matt Connelly for an illuminating tour live from one of America's most infamous prisons. Get a virtual look at its abandoned cellblocks and discover surprising connections between Eastern State Penitentiary and Alcatraz Island.
Member Saturday: Oscar Wilde and Incarcerated Creators
(Virtual, February 2022)
Join Connor Feeney, Eastern State Membership Specialist, and Elizabeth Fuller, librarian at The Rosenbach, for a thought-provoking discussion on incarcerated artists including Oscar Wilde and people who served time at Eastern State.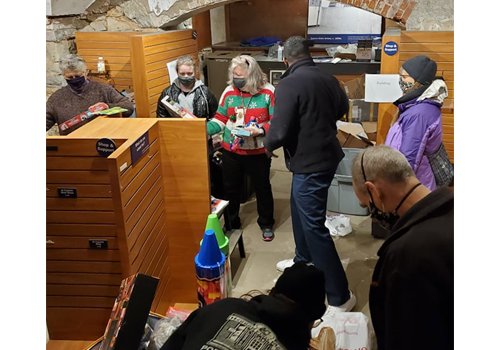 Dr. King Day of Service: Purpose Postcard Project
(In-Person, January 2022)
Since May 2021, visitors to Night Tours at Eastern State have written hundreds of Purpose Postcards to people incarcerated across the state. Join us to sort the postcards and prepare them for mailing to people inside prisons throughout Pennsylvania.
Member Saturday: Race and Incarceration | Segregation at Eastern State
(Virtual, January 2022)
Join Adrienne Whaley, guest curator of Eastern State's 2021 Pop-Up Museum, to examine how racial segregation functioned at Eastern State, how incarceration exacerbates racial tensions, and how racism impacted the lives of those who were incarcerated and worked at the penitentiary.
Holiday Toy Drive: Sort & Pack With Us
(In-Person, December 2021)
Join us as we sort and prepare toys, that have been donated by visitors, for pick-up by our partner organizations. Plus, write and send a holiday postcard to someone who is currently incarcerated.
Member Saturday: Eastern State Underground
(Virtual, December 2021)
Join Eastern State staff as we descend into the depths of the penitentiary to unearth the history of its underground foundations, the fascinating story of the maintenance tunnels, and what surprises we find when we dig beneath the surface today.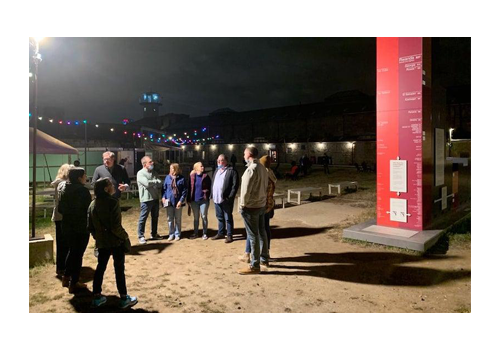 Member Saturday: New Justice Models for Veterans
(Virtual, November 2021)
Join Eastern State's Damon McCool, and the New York State Health Foundation's Veteran Health Officer, Derek Coy, for an intriguing discussion on the history of veterans at Eastern State and to learn more about the expansion of Veteran Treatment Courts.
Member Night: The Big Impact of The Big Graph
(In-Person, November 2021)
Join Eastern State's Senior Vice President, Director of Interpretation Sean Kelley to learn how Eastern State's fall fundraiser contributed to the original creation of this impactful, infographic sculpture and what the future holds for The Big Graph.
Member Saturday: Families on the Inside
(Virtual, October 2021)
Discover more about the families who called Eastern State home and those in prisons today with Connor Feeney, Membership Specialist, and enjoy a virtual view into the rarely seen ruinous and abandoned apartment quarters the wardens once called home.
Member Night: 30 Years of Halloween | A Q&A for Members
(In-Person, October 2021)
Celebrate 30 years of Halloween at Eastern State Penitentiary. Discover the origins of our Halloween fundraiser, listen to stories of legendary past attractions, and talk to the creative team behind Halloween Nights about their experiences designing the premier fall attraction in Philadelphia.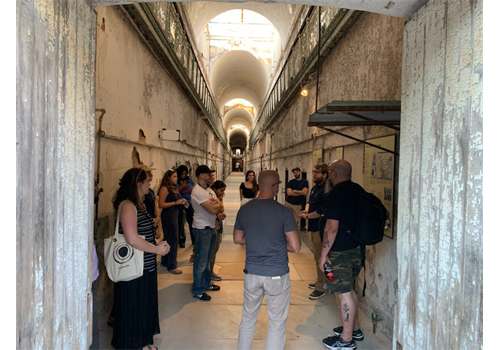 Member Night: Calling Eastern State Home
(In-Person, August 2021)
Discover the history of Eastern State's administrative building. Explore spaces designed for the men and women who were employed by the world's first true penitentiary and learn about our plan to create a visitor center in this area.
Member Saturday: Providing a New Leash on Life
(Virtual, August 2021)
Director of Community Outreach, Kyrie Palan, and program participant Meghan will discuss the power dynamics of the human-animal bond, and how New Leash on Life USA utilizes this relationship as an animal-assisted therapy technique to teach incarcerated people practical and social emotional skills.
Member Night: Twilight Photography Hour
(In-Person, July 2021)
Capture the eerie beauty of Eastern State during a twilight photography hour. Bring your tripod! Get exclusive access to the magnificent details of Cellblock 7 and its adjacent courtyard as the sun sets behind the penitentiary's perimeter wall.

Member Saturday: Lying, Plea Bargaining, and Justice
(Virtual, July 2021)
Thea Johnson, a professor of law at Rutgers Law School, will use real world examples to explore how and why lying has become a central part of the plea bargaining process and what that means for broader questions of justice.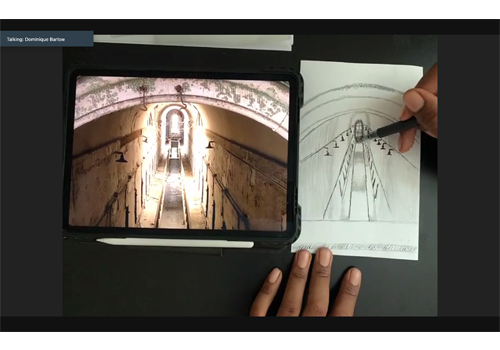 Member Night: Escaped!
(In-Person, June 2021)
Uncover the details of Eastern State's infamous 1945 tunnel escape. Explore the hidden mysteries of the Cellblock 7 Courtyard and learn about archeological evidence unearthed at the historic site.
Member Saturday: Sketch Eastern State
(Virtual, June 2021)
Try your hand at drawing Eastern State's cathedral-like, barrel-vaulted cellblocks with guidance and tips from local artist Dominique Barlow. No prior art or sketching experience necessary.
Member Saturday: True Crime | Sensational or Empowering?
(Virtual, May 2021)
Join two true crime enthusiasts and Eastern State staff members -- Kelly Otterson, Manager, Site Operations, and Samantha Hunter, Senior Specialist, School and Youth Programs -- to explore the good and the bad of this cultural phenomenon.
Member Saturday: Eastern State Adapts for Climate Change
(Virtual, April 2021)
Learn more about our new stormwater basins, built during the first phase of construction on our new visitor center, and get a look at long-range planning strategies for future stormwater management projects at Eastern State.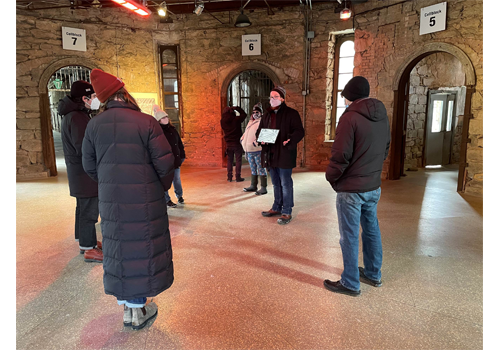 Member Saturday: Law & Order | Reality, Not TV
(Virtual, March 2021)
Professor Adnan Zulfiqar, Rutgers Law, will explore the key questions our courts try to answer when balancing our personal liberties with public safety and examine how these inquiries relate to the most fundamental challenges our legal system faces.
Members-Only Behind-the-Scenes Tours
(In-Person, February 2021)
Ever wonder which special spaces and stories most inspire our educators? Now is your chance to find out, and also get to know Connor Feeney, our new Membership Specialist! Connor will lead two in-person, members-only tours of the penitentiary before the site reopens to the public in March.
Member Saturday: Past & Present | Women and Incarceration
(Virtual, February 2021)
Join Lauren Zalut, Director of Education and Tour Programs, Damon McCool, Public Programming Specialist, and special guest Reverend Doctor Michelle Simmons, founder and CEO of Why Not Prosper. First, learn more about some of the nearly 1,000 women incarcerated at Eastern State. Then, consider the ongoing impact of incarceration on women today, including exceptional challenges as a result of COVID-19.

Member Saturday: Black Liberation Today | Race, Resistance, and the Carceral State
(Virtual, January 2021)
Nina Johnson, Assistant Professor at Swarthmore College, will lead a conversation about current movements – across the nation and globe – to end state sponsored racial violence and white supremacy.