Groups can now virtually partake in Eastern State Penitentiary's award-winning guided tour program! These live, interactive, discussion-based experiences are perfect for all groups who want a remote, private, and unique experience. Virtual group tours provide opportunities to reflect on Eastern State's original grand objectives, its change over time, and the racial, economic, and geographic impacts of mass incarceration.
Facilitated by an expert historic site educator, groups can choose from the following programs:
Eastern State Penitentiary and Prisons Today
(Available for 4th grade to adults)
Eastern State's history matters today more than ever. This in-depth virtual group tour explores the history of Eastern State and the experiences of men, women and children who lived and worked behind its walls. This program sets the stage for conversations about criminal justice reform today.
Defining Justice: Past and Present
(Available for 4th grade to 12th grade)
What does justice mean to you? Through social and emotional inquiry-based learning, elementary through high school students explore prisons past and present and the role they play in society in this interactive virtual workshop.
Organized Crime: Prohibition Era
(Available for 4th grade to adults)
Embark on an in-depth virtual exploration of vice, scandal and the struggles Eastern State faced in the early 20th century. This guided program includes a brief overview of Eastern State's founding principles, highlights organized crime figures who spent time at Eastern State, including "Scarface" Al Capone, and ends with group discussion.
Our staff is highly-flexible and can respond to many learning objectives upon request.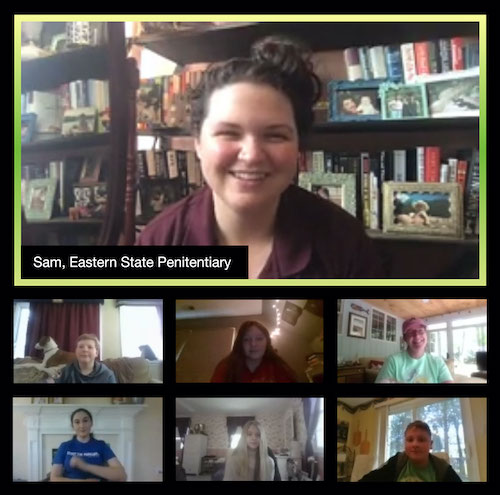 Details & Pricing
Group size: up to 50 attendees
Availability: Monday - Thursday from 10:00 am - 5:00 pm (Early mornings and evenings available for an additional fee.)
Age: 4th grade to adults
Online platform: Zoom
Fee:

$150, school and youth groups
$200, college and adult groups
+$75, additional sessions
Free for Philadelphia Public and Charter Schools*
* Additional schools may qualify for free virtual group tours.
Eastern State Penitentiary is committed to offering virtual programs that are financially accessible. Please ask for details when you make a reservation.
Book Your Virtual Group Tour
Please complete and submit this online form or contact Francine Schiffman, Manager of Group Sales and Guest Support at [email protected].
Other Opportunities
College/University Partnerships - Are you a college professor interested in integrating Eastern State more deeply into your course in historic preservation, sociology, history, criminal justice, or another subject? We'll work with you to plan and present three 60-minute virtual sessions tailored to your classroom's specific needs. Email us for more info.
Scout Days - We're thrilled to invite scouts to participate in specially curated learning experiences. Boy Scouts of America (BSA) scouts will also meet merit badge requirements. Our next Scout Day, on December 5, is completely virtual! Learn more.
FAQ