TEMPORARILY UNAVAILABLE
Please Note: Due to COVID-19 restrictions, we are not offering any Hands-On History experiences at this time. Instead, all visitors enjoy a self-guided experience that includes "The Voices of Eastern State" Audio Tour, award-winning exhibits, and a series of artist installations.
If you'd like a guide-led experience, Eastern State Penitentiary's award-winning tour program is now available to virtual groups everywhere! Learn more here.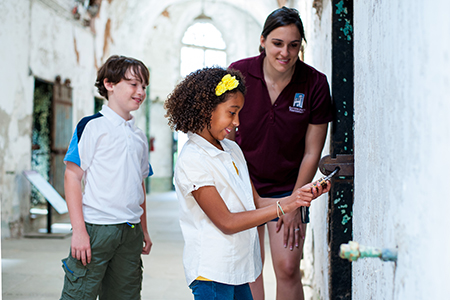 Eastern State Penitentiary Historic Site literally hands visitors the keys to the cellblocks with Hands-On History interactive experiences. These short demonstrations take place throughout the penitentiary complex, each lasting about five minutes. An expert Eastern State educator leads each activity, although visitors do the bulk of the physical activities themselves. Experiences include Soup Alley, Synagogue, Catholic Chaplain's Murals, Hospital, and more.