Many groups take trips to Eastern State Penitentiary during Halloween! Professional organizations, scout troops, fraternities, corporations, and sports teams often share in the Halloween spirit.
General Admission group rates for 2022 can be found on the calendar below. VIP Admission group rates will be announced soon.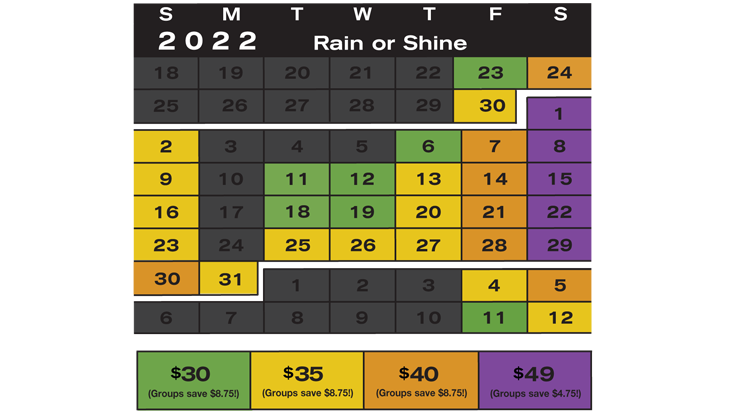 Special group rates (20 people or more) are available on all event nights. Group rates are available for General Admission (groups of 20 – 300), as well as VIP Admission (groups of 20 – 75). Since there are no service fees on group tickets, you will save at least $4.75 per ticket. Some nights have even more savings! In addition, all groups receive Express Entry into the festival.
Tickets will be available for purchase online soon. In the meantime, you can book your group's 2022 visit today by calling or emailing our groups sales team at (215) 309-4900 or [email protected].
Please Note: There are no refunds or exchanges for special events like Halloween Nights at Eastern State Penitentiary, including unused tickets.
Group General Admission: Includes 12 attractions*, plus Express Entry into the festival. No service fees. Available for groups of 20 – 300.
Group VIP Admission: Includes all 12 General Admission attractions, PLUS admission to The Speakeasy at Al Capone's Cell (Prohibition-themed cocktail lounge) and The Bloodline Lounge (Vampire-themed cocktail lounge), as well as one complimentary drink or snack in each,* and Express Entry into the festival. No service fees. Available for groups of 20 – 75.
*Please Note: We are still putting the final touches on our 2022 season. The above reflects our 2021 offerings and is subject to change.
Timed entry: half-hour entry windows. There is no limit on the duration of your visit.
Parking:
For personal vehicles: Halloween Nights parking is located at the Philadelphia Zoo's parking garage at 3500 W. Girard Avenue, Philadelphia, PA 19104. A shuttle will take you from the zoo to the penitentiary and back. Parking is $15 online, or $20 on site, per vehicle. Note: Cars and vans no taller than 8 ft, 2 in may park at the lot.
For large vehicles (charter bus, RV): Your driver should plan to drop off/pick in front of the penitentiary entrance, which is on Fairmount Avenue between 21st and 22nd Streets. While your group is experiencing Halloween Nights, your driver should park off-site in a bus lot. Please visit our Directions & Parking page for more information.
Please Note: There is no parking available at the penitentiary.
Want to make a day of it? Eastern State Penitentiary is open for daytime prison tours every day from 10:00 am to 5:00 pm (last entry 3:30 pm). Take a self-guided audio tour. When your group arrives, you'll each get an mp3 player and headphones that will guide you through the penitentiary.

Discounted Admission: $8 per person when you buy 20 or more tickets online. (Standard pricing is $19 for adults.)