The conversation about the legacy of criminal justice reform continues, but we need your help. Donate today!
This spring, we were in the midst of making many exciting plans – debuting our 2020 season of programming, celebrating the completion of the first phase of construction on our visitor center, and welcoming visitors to our brand-new tour launch point.
Then, on March 13, we were faced with the sudden temporary closure of our site. Things have changed since then, but we still remain dedicated to our mission. For the moment, the meaningful discussions that usually happen in our historic cellblocks have moved online. Your support today means we can continue our work – virtually for now and in person again when our site reopens.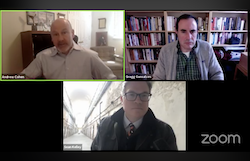 Our education team spent the early weeks of our closure racing to develop a brand-new set of online programs. While we're grateful for the opportunity to connect in our virtual community, there is no denying our daily revenue loss during this closure is significant.
You can help us weather these challenging times. We're confident that your support will help carry us through this and into an even more promising future.